Nashville Repertory Theatre — or Nashville Rep — has lifted the curtain on their upcoming 2023-24 season, which features a lineup of musicals, plays and a brand new holiday spectacle.
As the company celebrates the 39th annual season, it invites you to explore the idea of courage and bravery in everyday life.
"We're so excited about the upcoming year," says Micah-Shane Brewer, Artistic Director of Nashville Rep. "Our theme surrounding the season is 'Be Brave.' All of our productions in the 39th season tell stories of brave and courageous people and celebrates resiliency, ambition and life."
NASHVILLE REP 2023-24 SEASON
9 to 5
September 8 – 17, 2023
TPAC's James K. Polk Theater
Based on the hit film, Dolly Parton's beloved comedy follows three working women who take revenge on their lying, hypocritical, egotistical, bigoted boss. In a hilarious turn of events, Doralee, Violet and Judy live out their wildest fantasy of taking control of their lives. The high-energy musical celebrates female empowerment and equality in the workplace.
A Christmas Carol
December 1 – 17, 2023
TPAC's James K. Polk Theater
The Rep presents the world premiere of a brand-new adaptation of A Christmas Carol. Join the ghosts of Christmas Past, Present and Future as they lead the miserly-but-prosperous curmudgeon, Ebenezer Scrooge, on a journey of transformation and redemption. The production features sets and costumes to transport the audience to Victorian England.
Indecent
February 2 – 11, 2024
TPAC's Andrew Johnson Theater
Indecent is a poignant play inspired by the true events surrounding the controversial 1923 Broadway debut of Sholem Asch's God of Vengeance — a play seen by some as a seminal work of Jewish culture, and by others as an act of traitorous libel. The show explores the impact of censorship on art and is a moving tribute to the resilience of artists and the power of art to transcend borders and time.
The Color Purple
March 24 – April 2, 2023
TPAC's James K. Polk Theater
The musical tells the story of Celie — a young woman who endures abuse and hardship at the hands of the men in her life. Along the way, Celie forms close bonds with the independent Shug Avery and the strong and fierce Sofia. Based on the Pulitzer Prize-winning novel by Alice Walker and the hit 1985 movie, The Color Purple has a score mixed with gospel, blues and jazz.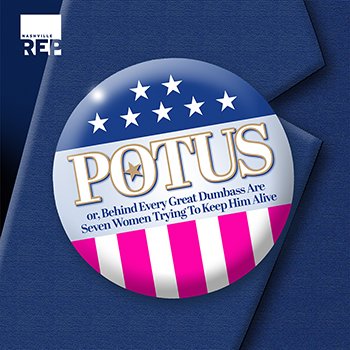 POTUS: Or, Behind Every Great Dumbass Are Seven Women Trying to Keep Him Alive
May 10 – 19, 2023
TPAC's Andrew Johnson Theater
The roof is about to blow off of 1600 Pennsylvania Avenue. When the President of the United States spins a PR nightmare into a global crisis, the seven women he relies on must risk everything to keep the commander-in-chief out of trouble.  POTUS is a biting satire that highlights the challenges faced by women in positions of power and the absurdity of contemporary politics.
"After two record-breaking seasons, we are thrilled to announce this exciting lineup of shows for 2023/2024," says Drew Ogle, Executive Director of Nashville Rep. "With beloved classic titles and contemporary work fresh from Broadway, musicals, non-musicals and a new adaptation of one of the world's most popular Christmas stories, Nashville Rep is excited to offer a little something for everybody in our upcoming season!"
Season tickets go on sale in May with single tickets available for all five shows in July. For more information, visit nashvillerep.org or tpac.org.