Let us bid a bitter farewell to summer by taking a peak into what the start of the fall season has to offer in Middle Tennessee. For more daily events, check out our things to do calendar!
*Click the event titles for more information. Events are listed by date.

Sept. 2, 3, 9, 10, 16, 17, 23, 24, 25
@ Centennial Park, Nashville
Musicians Corner returns this fall for their annual September Sundown concert series at 5 p.m. at Centennial Park (2500 West End Avenue, Nashville) each Thursday and Friday evening in September, with a special three-day weekend taking place September 23-25 in conjunction with AmericanaFest.
Sept. 4 | 5 - 9:30 p.m.
@ Centennial Park, Nashville
Water Lantern Festival is filled with fun, happiness, hope, and great memories that you'll cherish for a lifetime. This is a family friendly event that can be shared by everyone. Friends, families, neighbors, and lots of people that you haven't met can come together to create a peaceful, memorable experience. Tickets include wristband for entry into the festival area with food trucks, a floating lantern kit, LED candle, commemorative drawstring bag, lantern retrieval and water clean up. Price is $45.99 until 9/3/21 and $55.99 the day of.
Sept. 4 | 12 - 6 p.m.
@ Hadley Park, Nashville
The John A. Merritt Classic Family Festival is a time for our community to come together party like we supposed to after the pandemic! FREE FOR THE PUBLIC! Vendors, Food, and a Live show that you will love! Plus Bounce Houses and other activities for the kids. Proceeds help benefit the Kool Kids Society non profit organization dedicated to enriching the youth of the inner city.
Sept. 4, 11, 18, 25
@ Warner Park Nature Center, Nashville
Drop by Warner Park Nature Center (7311 Highway 100, Nashville) to explore the bird garden, observe the feeders and watch for hummingbirds between 10 a.m. and noon.
Sept. 4 | 9 a.m. - 5 p.m.
@ Cheekwood, Nashville
Stroll among impeccably maintained classic cars from the early to mid-twentieth century during the Classic Car Show at Cheekwood (1200 Forrest Park Drive, Nashville) 9 a.m. - 5 p.m. The show will feature more than 25 impeccably maintained vintage cars throughout the gardens, including a 1927 Rolls-Royce Phantom I, a 1934 Packard Super Eight Victoria and a 1947 Chrysler Town & Country (plus visitors are encouraged to drive their own collector cars), as well as food trucks, bar stations, a barbershop quartet and more.
Sept. 4, 5
@ Country Music Hall of Fame, Nashville
The 50th Annual Grand Master Fiddler Championship will be held at the Country Music Hall of Fame and Museum's Ford Theater (222 5th Avenue South, Nashville). Contestants from all over the world will come to compete. There are live performances and other family fun scheduled throughout the 2-day event.
Sept. 3, 4, 10, 11, 17, 18, 24, 25
10:30 a.m.
@ Nashville Public Library, Nashville
Adapted and set to music by Wishing Chair Productions, Sky Bear is a Native American folktale about how the Milky Way was formed. This story is told with marionettes created by Wood and Strings Puppet Company. Presented in the Nashville Public Library's Children's Theater on Fridays and Saturdays in August and September at 10:30 a.m. For ages 3 and older but all are welcome.
Sept. 10-12
@ Holy Trinity Greek Orthodox Church, Nashville
A drive-thru celebration of the cuisine, music and culture of Greece that includes savory cuisine, soulful music, lively dancing and educational tours Sept. 10-12 at Holy Trinity Greek Orthodox Church (4905 Franklin Pike, Nashville).
Sept. 11 | 5 - 9 p.m.
@ Green Hills Park, Nashville
Join Friends of Green Hills Park for the fifth Green Hills Park Festival! For adults there will will be vendors and food trucks, beer & a trailer showing college football games! Plus listen to live music by the rock band "Incognito Cartel!" Activities for kids include free face painters, baby goats, obstacle course, vintage baseball, learning bike skills and safety tips, learn how to juggle and Kidsville Children's Activities!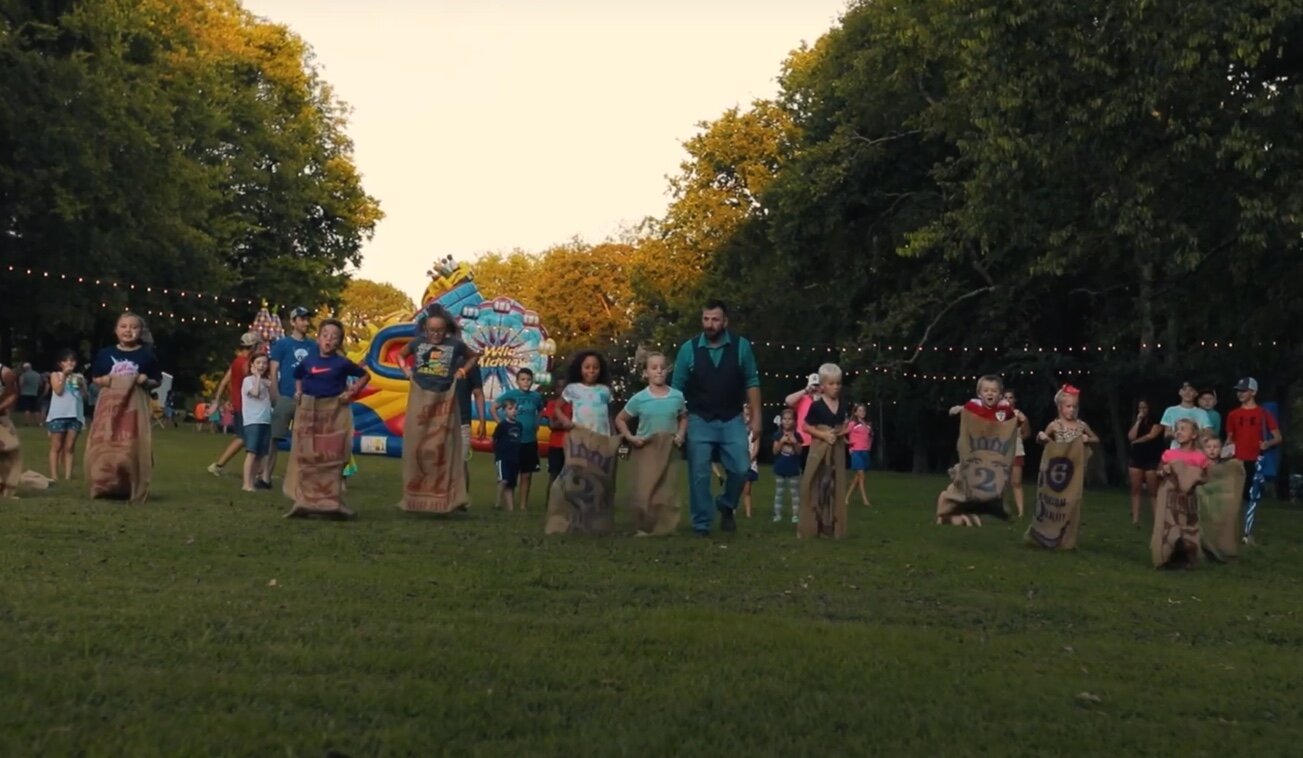 Sept. 11 | 4 - 9 p.m.
@ Historic Rock Casle, Hendersonville
Come out to Historic Rock Castle for an evening of music and community-focused fun at this year's Folk n' Bluegrass Fest! Gates open at 3:30 p.m. and cost is $10 per adult, children under 18 are FREE
Nashville Symphony Returns!
Sept. 11: Beethoven Under the Stars w/ the Nashville Symphony,
Sept. 12: NAS w/ the Nashville Symphony,
Sept. 16: Fanfare for Music City
@ Ascend Amphitheater, Nashville
Since suspending all concerts in March 2020, the Nashville Symphony has waited to open its doors and share the power of music with audiences again. The new season kicks off on September 16, with Fanfare for Music City, a program that includes two works that will honor the contributions of essential workers during the pandemic.
Sept. 11 | 9 a.m. - 5 p.m.
@ Percy Warner Park, Nashville
This celebration of Scottish and Celtic traditions includes hurling and rugby games, bagpipe and drum bands, sheep dog herding demonstrations, a tartan parade, children's activities, specialty vendors and more from 9 a.m. - 5 p.m. at Percy Warner Park in Nashville. Cost is $25 for adults, $7 for children.
Sept. 11 | 9:30 - 11:30 a.m.
@ The Wilderness Station, Murfreesboro
Go over parts of the bow, technique and get a chance to shoot at the Wilderness Station (697 Veterans Parkway, Murfreesboro) from 9:30 - 11:30 a.m. Please note that this program requires a 1-mile walk on a paved trail to get to the archery area. Admission is $3 per chid, space is limited and registration is required. Homeschooling? Check out their Archery Club for homeschoolers in September!
Sept. 11 | 10 a.m. - 4 p.m.
@ Main Street Park, Goodlettsville
The Salty Dog Festival at Main Street Park (105 South Main Street, Goodlettsville) will include the best in local artisans, crafts, music, local businesses and food trucks from 10 a.m. - 4 p.m. The festival will host a live band, petting zoo, kiddie train, dog costume contest and more!

Daily starting Sept. 12 through Oct. 24
@ Monthaven Arts & Cultural Center, Hendersonville
A new exhibit celebrating the American cowboy tradition, opening at Monthaven Arts & Cultural Center (1017 Antebellum Cir, Hendersonville) September 12 - October 24, 2021. The exhibit features more than 40 paintings, sculptures (inclusing beaded skull art) and photographs from the Booth Western Art Museum paired with lyrics from traditional and contemporary songs. The exhibition is free and open to the public. There's an opening reception on September 12 from 2 - 5 p.m.
Sept. 3, 17, 24, Oct. 1
@ Streets of Indian Lake, Hendersonville
Enjoy live music, face painting, games and food trucks followed by a screening of Shrek, Toy Story, Finding Nemo and Croods 2: A New Age at Streets of Indian Lake (300 Indian Lake Boulevard, Hendersonville). Activities begin at 6 p.m., movie starts at 7 p.m.
Sept. 18, 19, 20
@ Deer Run Camps, Thompson's Station
Spend a weekend away with your daughter(s) and create some life-time memories together Friday, Sept. 17 at 4 p.m. through Sunday, Sept. 19 at 11 a.m. at Deer Run Camps (3845 Perkins Road, Thompson's Station). Play and laugh while you enjoy a PJ party and movie night, guided painting class, and recreation choices — swimming, canoeing, bank fishing, archery & BBs range, giant swing, zip lines, pedal karts and more. Weekend package includes 5 meals, an event shirt and 2-night accommodations.
Sept. 18 - Oct. 31
@ Cheekwood, Nashville
Celebrate the autumnal season at Cheekwood! The changing of the leaves are one of many garden highlights you'll find as oaks, maples, dogwoods, and other trees greet you with their fall colors. You'll find activities and experiences designed to appeal to kids, adults and families alike, making this six-week celebration the perfect time for a peaceful solo stroll, a crisp fall family day or an afternoon date. Available Tuesdays through Sundays from 9 a.m. - 4:30 p.m. through October 31.
Sept. 18 | 10 a.m. - 4 p.m.
@ Murfreesboro Greenway, Murfreesboro
Browse and buy an array of art, ranging from oil paintings, watercolor, pottery, textile, metal, glass and sculpture on Murfreesboro's Greenway (1025 Old Fort Parkway, Murfreesboro) from 10 a.m. - 4 p.m. There will also be live music, kids' activities, food and more.
Sept. 18, 19, 23, 24, 25
@ Lucky Ladd Farms, Eagleville
Lucky Ladd Farms (4374 Rocky Glade Road, Eagleville) is a nice stop each fall offering for picking pumpkins, animal encounters and a giant inventive playground, plus mega slides, pony rides, wagon rides, tractor train rides and more. Thursdays are $13.99 online, $15.99 at the gate. Fridays - Sundays are $15.99 online, $17.99 at the gate. Toddlers under 2 are free.
Sept. 23, 24, 25, 26
@ Bridgestone Arena, Nashville
Dream Big features favorite Disney friends such as Mickey, Minnie, Miguel, Moana, Elsa, Belle, Genie and more highlighting all the magic and adventure of Disney's tales through world-class figure skating Sept. 23-26 at Nashville's Bridgestone Arena. Audiences will be transported to exciting worlds where heroes of every kind seek to fulfill their dreams at a live experience families will never forget! Performances start at 7 p.m. each night
READ MORE GREAT CONTENT!