Lots of great music will fill the air during Middle Tennessee summer concerts in May, June, July and August of 2022. Live music's a great way to connect with others, especially your own kids!
Mark your calendars for these fun family summer concerts and make sure to bookmark this page and check back in because we'll be adding events and updating the page throughout the summer.
OUTDOOR COMMUNITY CONCERTS
Thursdays May through October
Cheekwood, Nashville
Musical performances, regionally-sourced food and spirits, lawn games and wellness classes. Tickets are $25 for members and $45 for not-yet members.
Aug. 27, Sept. 10
Harvey Park, Spring Hill & Sarah Benson Park, Thompson's Station
Pack a blanket or a lawn chair and come hungry, because each concert will have a different local food truck. The shows at Sarah Benson Park (1513 Thompson's Station Road W, Thompson's Station) will be May 14, June 11, July 9, Aug. 13 and Sept. 10. The concerts at Harvey Park (4001 Miles Johnson Parkway, Spring Hill) will be May 28, June 18, July 23 and Aug. 27.
Sundays: August 21, September 18, October 16
Cumberland Park, Nashville
Enjoy free music with a kid's zone, plenty of food trucks and concessions, presented by Victor Chatman Productions & Nashville Metro Parks.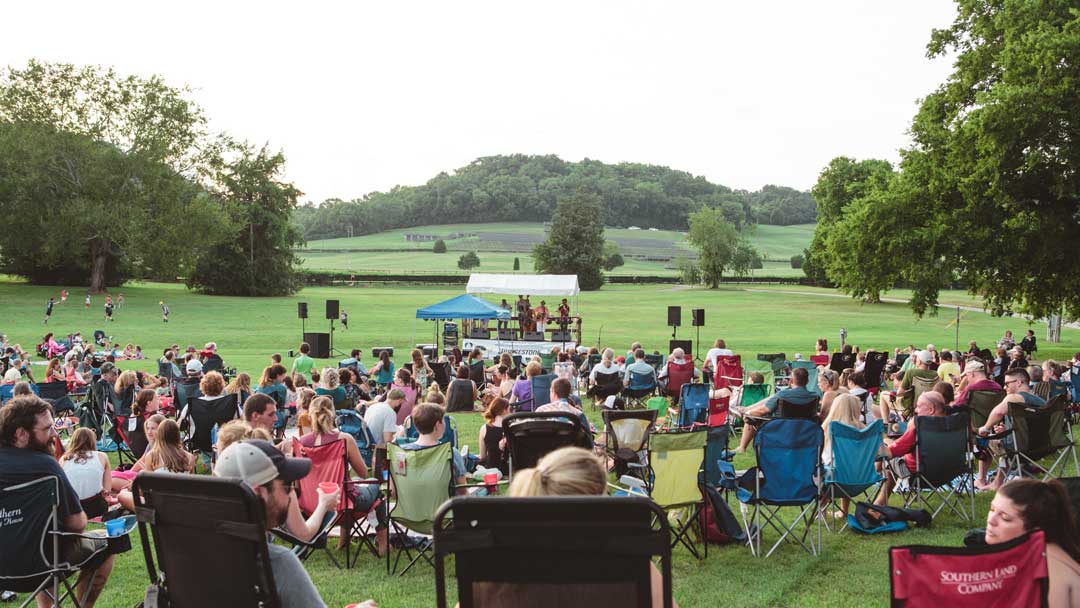 August 12, September 16 -17
Percy Warner Park, Nashville
This bluegrass music series allows families and dog-lovers to hear local musicians play under the full moon at Percy Warner Park. Bring an instrument and join in on one of the many pickin' circles. Food trucks will be available. Adults are $25, ages 7 – 17 are $10.
July 28, August 27
Fran Hutson Amphitheater, White House
Bring your lawn chairs for this fun, family-friendly concert series at the Fran Hutson Amphitheater (105 College Street, White House) starting at 6:30 p.m. To kick off the series, Variety Pack will take the stage with a selection of classic rock and just a little country, too.
Fridays, Saturdays and Sundays through November
Arrington Vineyards, Arrington
Enjoy tunes, food from local vendors and all around good vibes. No reservations are required and entry is free Saturdays from 11 a.m. – 8 p.m. and Sundays from 12 – 8 p.m.
Every Saturday through August
Centennial Park, Nashville
Made possible by the Tennessee Arts Commission, Big Band Dances take place every Saturday from 7 – 10 p.m. at Centennial Park's Event Shelter. A live big band provides the music while you and your kids learn a different dance style. Food trucks are on site, or you can bring a cooler. If you're new to the swing-era dance steps or just need to knock the dust off your dancing shoes, there's always a free lesson for everyone at 7 p.m. and the evening's big band takes over at 7:30.
July 31
Carnton, Franklin
This year's performances feature WANTED: The Bon Jovi Tribute Band on June 26 and Mixtape, an 80s Cover Band on July 31. Tickets are $20 at the gate.
Every Thursday, June through August
Streets fo Indian Lake, Hendersonville
A free weekly concert series from 6:30 – 9 p.m. full of family friendly music to ease into those relaxing summer evenings.
September 1 – 5
Public Square Park, Nashville
This popular free music series sponsored by Lightning 100 returns in August, bringing a month-long series of free music to Nashville's Public Square. The final weekend includes a children's stage and is one of our favorite summer concerts.
MORE SUMMER CONCERTS
Vince Gill
August 4 – 7
Ryman Auditorium
Grand Funk Railroad
August 5 | 7:30 p.m.
Schermerhorn Symphony Center
Styx and REO Speedwagon
August 8 | 6:45 p.m.
Ascend Amphitheater
Red Hot Chili Peppers
August 12 | 7 p.m.
Nissan Stadium
Umphrey's McGee
August 20 – 21 | 5:30 p.m.
The Caverns
Jack Johnson
August 24 | 7:15 p.m.
Ascend Amphitheater
Little River Band
August 26 | 8 p.m.
Schermerhorn Symphony Center
Goo Goo Dolls
August 27 | 7 p.m.
Ascend Amphitheater
The Decemberists
August 27 | 8 p.m.
Ryman Auditorium