We sure don't get a lot of snow days in Tennessee, so when we get some fresh powder, we have to make the most of it!
Snow days can be tricky for parents and caregivers, but for kids, it's a chance to frolic outside building snowmen, having snowball fights and making snow angels. That is, until it gets too cold and wet to be fun anymore. And — let's be honest — it doesn't take long for that to happen, which leaves the grownups grasping for fun snow day activities that don't involve a screen.
I know we've all been cooped up, so don't forget there's plenty of things to do with the kiddos outside —just don't forget to bundle up. Cure your cabin fever with these 15 activities for snowy days. You can do most of them in your own backyard!
Make a snow angel of course! To make the perfect snow angel you need fresh snow that's deep enough so you won't see the ground behind it and the top should be powder. Slowly lay down butt first then flat on your back and spread your arms straight out.
Ice bowl luminaries. Using a set of flexible nesting bowls, you'll freeze water between them overnight. Once it's frozen, pop it out, set it on the ground upside down and put either a glow stick or battery operated tea light under it.
Blow unpoppable bubbles.The soapy solution you use in summer reacts differently in chilly temperatures. Leave the bubble bottle outside so it can get really cold. Then wave the wand—instead of blowing with your warm breath—to let the bubbles fly. If you're quick (and careful) enough to catch one, you might just see it slowly ice over in your hands. If it's way below freezing, kids will love watching the bubbles harden midair and roll around once they hit the ground.
Trampoline + Snow = Instant Fort! Don't go bouncing the snow away just yet, see if you can pile it up around the sides on the ground and crawl UNDER the trampoline for a snow fort fun day! If you don't have a trampoline, use two chairs, a mop, a broom and a sheet. Set the two chairs apart from each other but facing. Put the mop and broom across the two chairs. Lay a sheet over them. Wait for it to snow!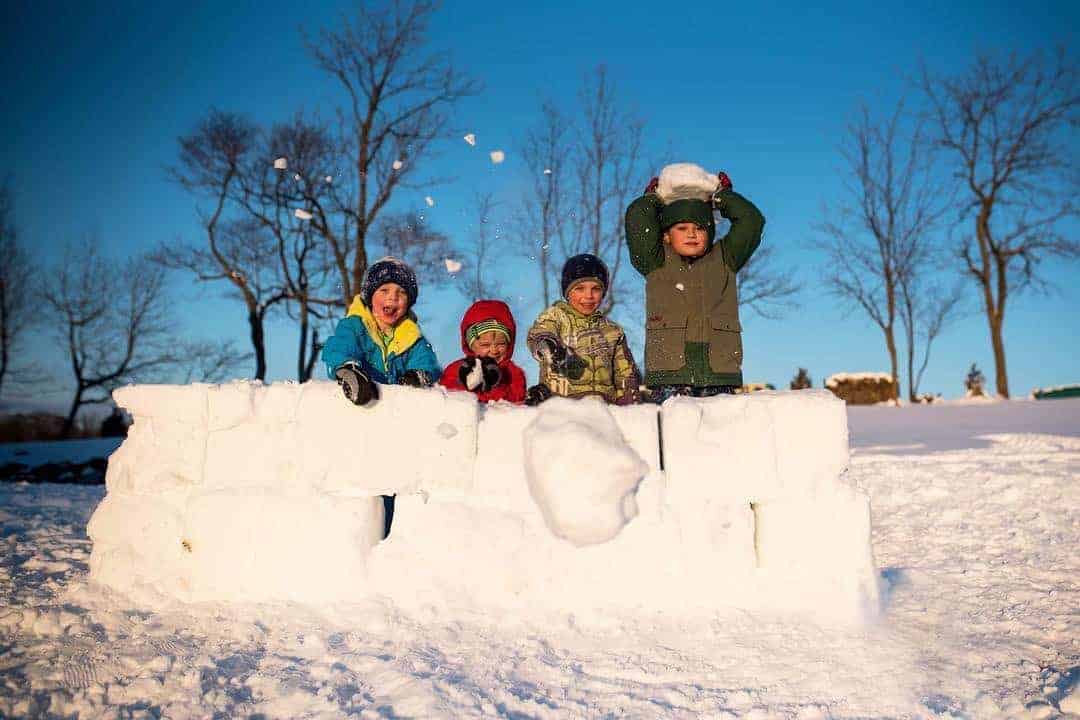 Snowball fight! Grab your ice cream scooper and start making some snowballs. This is a fast and fun way to make them. Set some rules before they start pounding each other in the face, though. :)
Make snow monsters. They're more fun than your basic snowman and even easier to create: Pick up a bunch of glow sticks from a dollar store, then get your outdoor gear on and make big mounds of snow just before dusk. Poke two holes for the monster's eyes and place a lit-up glow stick in each hole. (Depending on the type you get, you might need to use more than one per eye.) Cover the hole lightly with snow, so you can still see its glowing eyes.
Go ice bowling. Turn your driveway into a lane. Freeze ten bottles of water (word to the wise: be sure to leave room at the top for water to expand) and a water-filled balloon. Once the pins and ball are ready, set up your alley.
Play tic-tac-snow. Two players go for the championship in this classic game. Use criss-crossed sticks and pinecones as game pieces.
Don't forget about Frosty. Kids love making snowmen and a good dusting of snow could be all that you need to make even a little one — which is best for little kids and can be set upon the porch for all to see.
Snow maze. Use your feet or a shovel and make a maze in the snow for the kids to follow. One foot off the path and they're out! It just takes a little bit of thinking on the parents' part.
Hide and seek toys. The night before a big snow, set several plastic toys out in the yard. Hopefully, you'll get enough snow during the night to cover them up. The kids will have fun seeking them out!
Frozen outdoor decor. In an ice tray, freeze some berries, flowers and other natural items in the different sections with water. Be sure to have a piece of string set inside each section and hanging over the edge so that when you pop out the decorative cubes, you'll have something to hang them by.
Colorful Ice Spheres. Here's another decorative craft you can do with the kids. Fill a balloon with water and a few drops of food coloring. Freeze it. Once frozen solid, take it outside. Cut away the balloon and place in the yard.
Snow canvases. Fill condiment squirt bottles up with water and food coloring. Give them to the kids and have them squirt paint masterpieces into the snow!
Create an outdoor obstacle course. Invite your kids to head to the shed or garage and search for some creative objects to create an obstacle course in the snow. We suggest using items like hula hoops, sleds, pool noodles and plastic containers to build a course to challenge your children's balance, speed and imagination!
MORE SNOW FUN!