The great outdoors has plenty to offer, but there are times when you're stuck inside for one reason or another (like a pandemic that won't seem to go away). Board games are a fun way to gather everyone around the table to engage in some group escapism.
Unfortunately, playing the same games time and time again can lead to more boredom than fun. To change things up, we compiled a list of new and exciting games for kids, adults and the entire family — and each one is sure to keep them entertained for hours.
BIG KIDS (Ages 7+)
Backgammon
Ages 8+ / Approx. 30 mins.
Various boards available
The great thing about a one-on-one game like Backgammon or chess or checkers is that instant bonding that occurs. Pull out the board after dinner for a sit down and a match and soon enough you'll be doing it every night. Set up the board then roll to move pieces off the board & be the first one to do it. Addicting fun.
Catan – Family Edition
Ages 10 and up / Onn to two hours
$30
Build settlements, cities and roads on an island by spending and trading resources. Accumulate points during play (you need 10 to win) by building, having the longest road and the biggest army and more.
Clue
Ages 8+ / Approx. 45 mins.
$19.99
In the Drawing Room with the lead pipe and Professor Mustard! This classic detective game has players solving the mystery of who done it at the mansion. Players move from room to room using deductive reasoning to find out the contents of the confidential file in the middle of the board.
Cranium
Ages 13+ / Approx. 60 mins.
$54.99
Players have to complete activities in each of four sections to win, calling up creativity, trivia knowledge, word scramble ability, impersonation skills and more.
Exploding Kittens
Ages 7+ / Approx. 45-mins.
$29.99
Players take turns drawing cards until someone draws an exploding kitten and loses the game. There are a few twists to help you avoid exploding along the way. Russian roulette sort of fun.
The Game of Life
Ages 8+ / Approx. 60 mins.
$19.97
This simple, fun game wins kudos simply for its ability to bring life into focus: the highs and lows, college, marriage, children! A spinning wheel makes the play fun (so do the little cars you use as your game token and the pegs you use for people). The player with the highest cash value at the end wins. Hey, that's life.
Othello
Ages 7+ / Approx. 30 mins.
$33.99
You can learn this game quickly, but don't be fooled: strategy is going to take a while. Two players; choose white or black as your color. As you set down pieces, you try to trap other pieces between your own to capture your rival's. Winner is the one who has captured the most pieces and there are no more moves to be made.
Ticket to Ride
Ages 8+ / Approx. 45 mins.
$54.99
We got this for Christmas one year and ended up playing it almost everyday through Christmas vacation. You can learn it quickly: collect cards of various types of train cars then use them to claim routes across North America, by putting your train cars on your routes. During game play, you deal with your greed and according to the game creator, Alan R. Moon, "losing a critical route to a competitor."
Trivial Pursuit
Ages 12+ / Approx. 90 mins.
$24.99
When this board game came out in the 80s, a game-playing renaissance began. Everybody was into trivia! Trivial Pursuit tests your info awareness across categories as you roll and move to collect pieces for your game token. Once a player has a piece of each color, he can move to the middle to win the game.
LITTLE ONES (Ages 3-6)
Eye Found It
Ages 3+ / Approx. 20 mins.
Various boards available
$20
Eye Found is a board game for preschoolers that helps children practice their focus, memory, object identification and matching skills.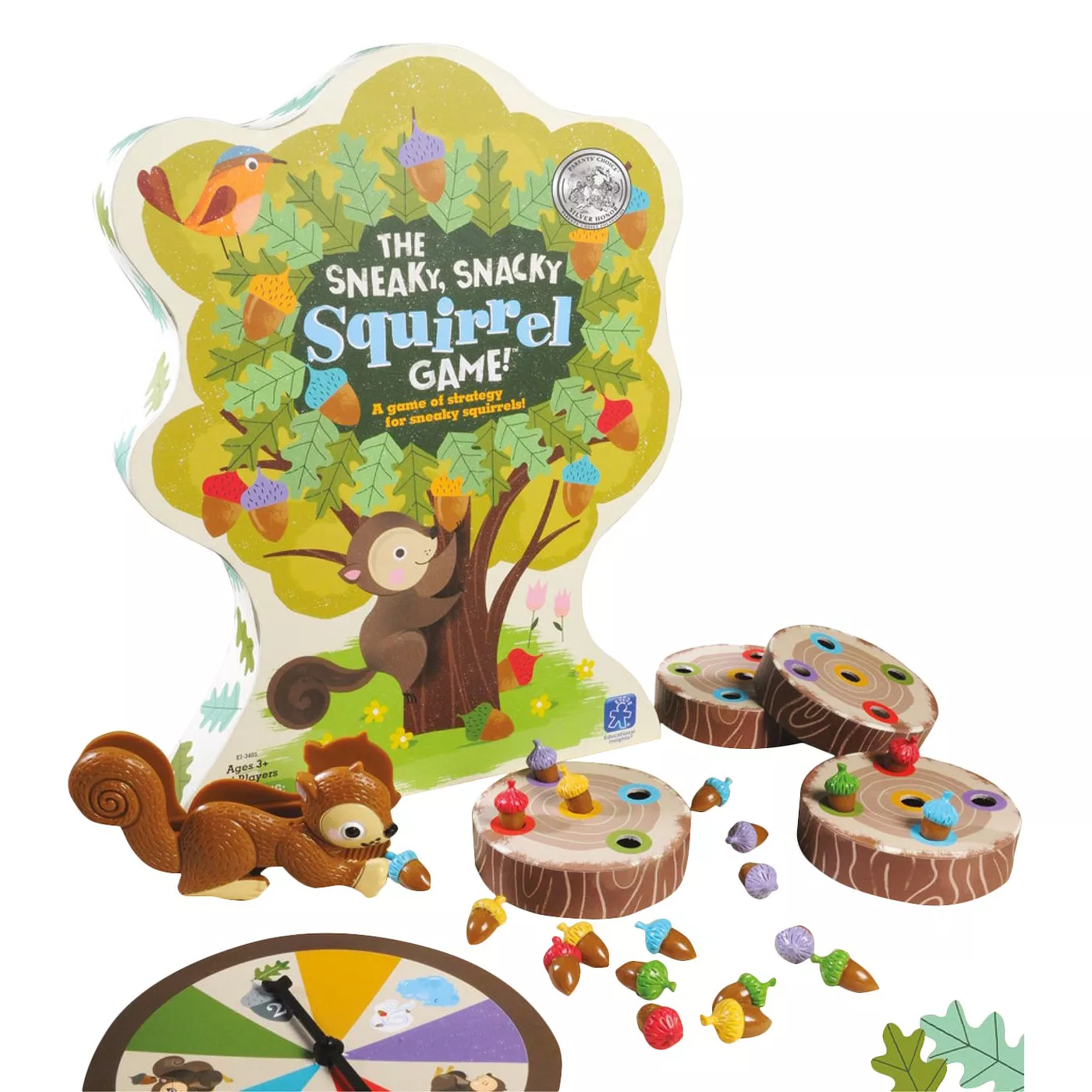 Sneaky Snacky Squirrel Game
Ages 3-6 / Approx. 20 mins.
$13
Spin the spinner, squeeze the matching colored acorn with your squirrel squeezer, and place it into your log. Be the first to fill your log with delicious acorns and you win.
Go Fish
Ages 3+
$7
It's a great way for young kids to learn how to play cards – how to hold them, how to deal, how to read the numbers, how to take turns. The art is fun and friendly and very modern and the package makes a great gift!

Candyland
Ages 3+
$12
If you loved playing the Candyland board game when you were a child, you can share the experience with your loved ones and start down the "magical" road to sweet surprises! Players choose their cards, move their pawns, and let their imaginations soar as they make their way to the castle to win! For 2 to 4 players.

The Memory Game
Ages 3+
$7
Can you remember what's hiding where? It's fun to find matching pictures of your favorite things. If you find the same two cards, you keep them. The player with the most pairs wins.

Mr. Bucket
Ages 3+
$18
Scoop up the balls that match your colored shovel, and drop the balls into Mr. Bucket as he whirls and spins around the floor. Watch out – Mr. Bucket will try to block your ball with his hands and will even spit the balls right back out of his mouth onto the floor, creating tons of fun!
Operation
Ages 4+
$14
Use the tweezers to take out all of Cavity Sam's 12 funny ailment parts that parents might remember — such as a wishbone, Charlie horse, and Adam's apple.