The spooky season of October is upon us in Middle Tennessee with haunted houses and other creepy attractions!
We've rounded up a list of not-so-scary tours and happenings appropriate for all ages. In addition, with your older kids in mind (ages 10+), we've put together a frightfully fun collection of haunted happenings this Halloween season.
*Always keep in mind the sensitivities of your child no matter their age in regard to any spooky excursion.
EDITOR'S PICK: MILLERS THRILLERS



When it comes to serving up Halloween hoots and serious scares, no one beats Miller's Thrillers in Columbia (1431 Carters Creek Pike). The awesome Zombie Paintball Hayride is for everyone, but beware of the Haunted Woods; it's for big kids only (ages 10 & older), and that jaunt stretches out to a one-hour experience this year.
Hours are Fridays – Saturdays in October from 7 – 11 p.m. (6 – 11 p.m. on Oct. 14, 21 & 28), plus Oct. 31 from 7 – 9 p.m. Tickets are $45 for both attractions; or the Slash Pass ($20) is worth the extra dough if you don't have patience for long lines!
Learn more and get tickets at millersthrillers.net.
NOT-SO-SCARY FUN (all ages)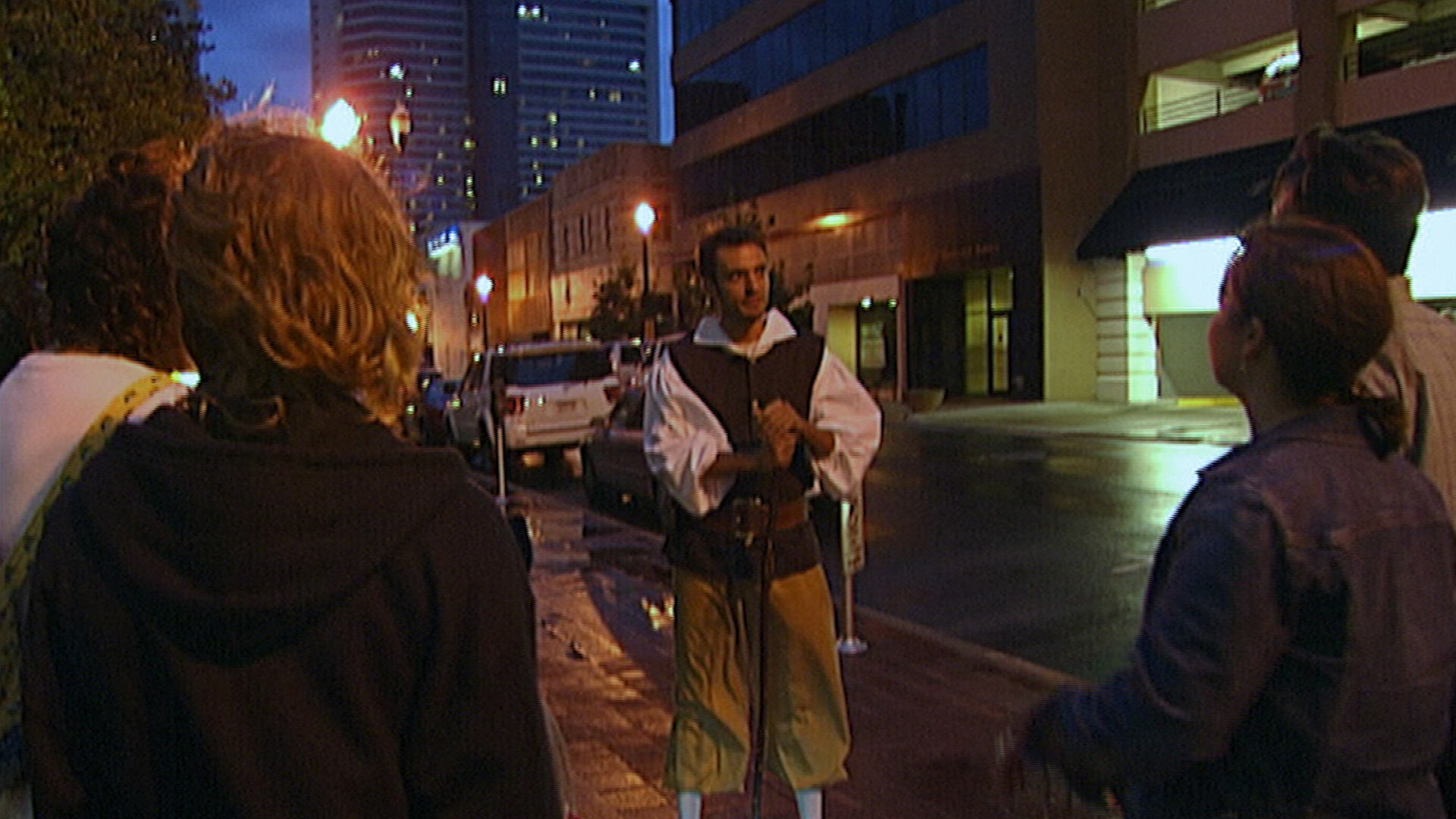 NASHVILLE GHOST TOURS
Sixth Avenue North & Union Avenue, Nashville
Nightly 8 p.m. Sun – Fri, 8 & 9 p.m. Sat
$20 ages 11 & older, $15 ages 7 – 10, free ages 6 & younger
A lantern-bearing guide leads you on this 90-minute tour through the dark mysteries of the streets of downtown Nashville, including landmarks like the Ryman Auditorium, Tennessee State Capitol, Printer's Alley and more. Tour is suitable for younger kids.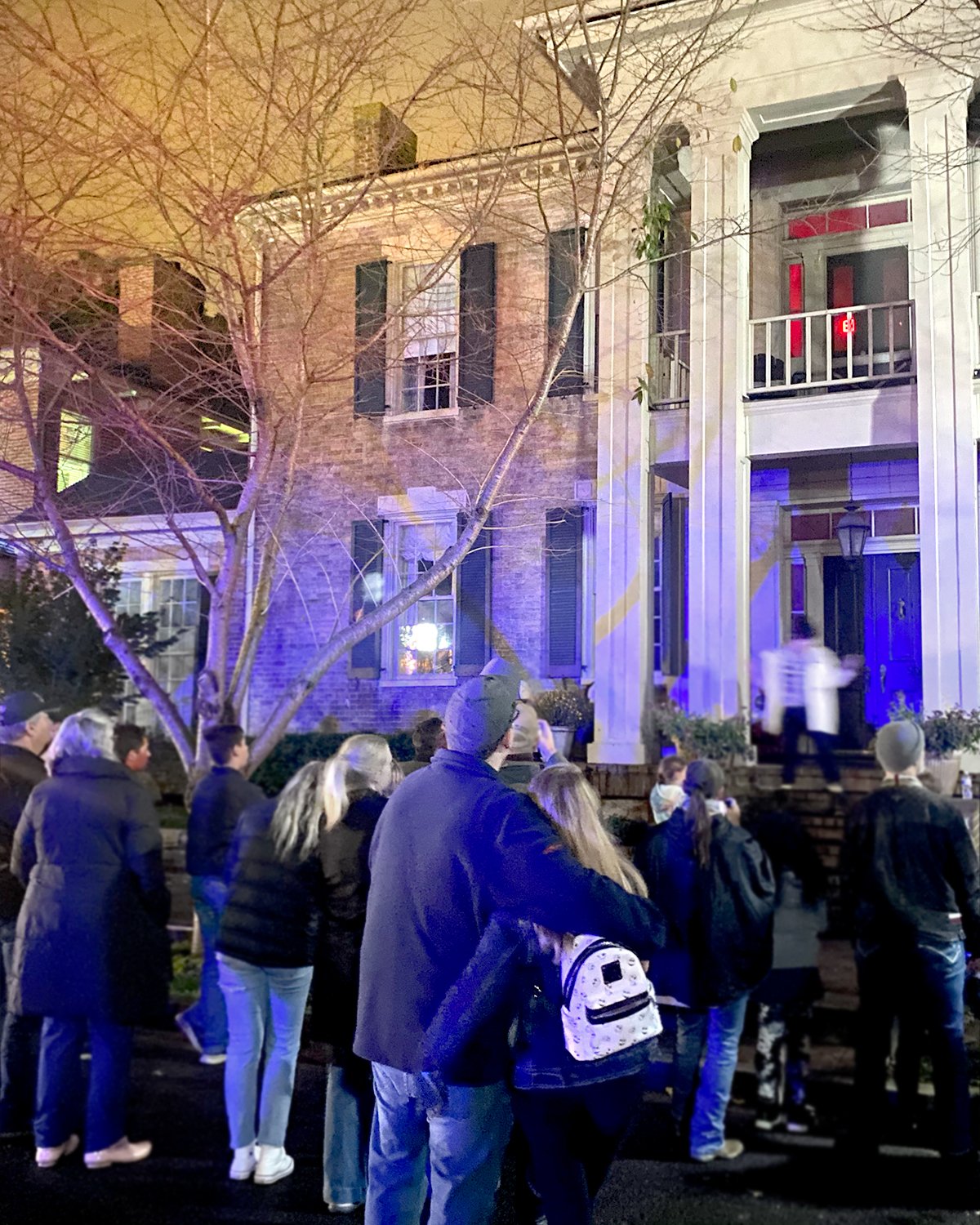 HAUNTED FRANKLIN TOURS
305 Public Square, Franklin
615-400-3808
Nightly at 7 p.m.
$25 adults, $15 teens, $10 kids
Franklin On Foot hosts this family-friendly walking ghost tour for all ages. It covers six blocks of historic downtown Franklin exploring the ghosts and haunts that linger on the brick-lined streets and landmark buildings.
GHOSTS OF GALLATIN HAUNTED TOUR
Sumner County Courthouse
100 Public Square, Gallatin
Sept. 30 – Oct. 1 | 7 p.m.
$25 adults, $12 teens
From Andrew Jackson to the Civil War, the Gallatin Square is rich in history and hauntings. The Ghosts of Gallatin Tour is family-friendly and will features some of Gallatin's most fascinating and terrifying ghost encounters, history and folklore.
FRIGHT NIGHT LASER SHOW
Adventure Science Center
800 Fort Negley Blvd., Nashville
Oct. 21, 22, 28, 29| 6:15 – 7 p.m.
$11 for non-members; $7 for members
Fun and a little bit spooky, this family-friendly cosmic concert features lasers, stars, pumpkins, skeletons, spiders and assorted monsters performing Halloween classics.
A HAUNTED EVENEING OF HALLOWEEN CLASSICS
The Parthenon
2500 West End Ave., Nashville
Oct. 20, 27, 29 | 7 and 9 p.m.
$35
Enjoy a string quartet performing Halloween classics — such as "Thriller," Stranger Things" and "Beetlejuice" — under the gentle glow of candlelight.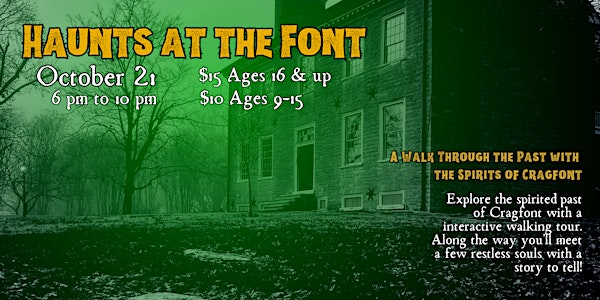 HAUNTS AT THE FONT
Cragfont State Historic Site
200 Cragfont Rd., Castalian Springs
Oct. 21
$15 for ages 16 and up, $12 for ages 9 – 15 and free for ages 9 and under
Join in on an evening of ghost stories and spooky tales. Guests will be guided by lantern along a trail from the historic tobacco barn to Cragfont, looming creepily in the distance. Along the way, you will encounter a number of characters from Cragfont's spirited past. Each will have a spine-tingling story to tell!
SPOOKY SPLASH AT PATTERSON PARK POOL
Patterson Indoor Water Park
521 Dr Martin Luther King Jr Blvd., Murfreesboro
Oct. 27 | 5 – 8 p.m.
Enjoy swimming, crafting, dinner and a pudding surprise. Make sure you re ready to dins what might be hidden in the pudding and come prepared to leave your mark on a t-shirt as they tie dye the night away (must bring a white t-shirt to tie dye). For ages 8 – 14. Cost is $5 preregistration or $7 day of.
HAUNTED MUSEUM AT TN STATE MUSEUM
Tennessee State Museum
1000 Rosa L Parks Blvd., Nashville
Saturday, Oct. 28 | 10 a.m. – 3 p.m.
A free event, this Haunted Museum brings together some of the state's finest storytellers to deliver chilling ghost stories from Tennessee's past for all ages from 10 a.m. – 3 p.m.. Guests can enjoy snacks, games, art activities and costume parades.
HAUNTED HOOTS (ages 10+)
HERMITAGE GHOST TOURS
The Hermitage
4580 Rachel's Lane, Hermitage
615-889-2941
Weekends in Oct. (plus Oct. 30 – 31) | 6:30 & 8:30 p.m.
$40
Explore the haunted side of Andrew Jackson's Hermitage while exploring the mansions, grounds and cemetery by lantern light as guides share stories of the ghosts of the Battle of New Orleans and Jackson's meeting with the Bell Witch.
GHOST TOURS AT SAM DAVIS HOME
Sam Davis Home
1399 Sam Davis Rd., Smyrna
Oct. 14 – 15 and 21 – 22 | 6 – 10 p.m.
$10 – $15
Jump on the hayride to begin your spooky tour, then enter the historic house after dark and hear about some of the creepy encounters that have taken place over the years. The house is set for a funeral to explore Victorian mourning cusctoms and traditions. Last tour begins at 9 p.m.
HISTORY AFTER DARK TOURS AT SAM DAVIS HOME
Sam Davis Home
1399 Sam Davis Rd., Smyrna
Oct. 6, 7, 27, 28 | 7 – 10 p.m.
$25
Have you ever wondered what goes on inside one of the most historic homes in middle Tennessee once the sun sets and darkness falls? Walk the dimly lit halls and hear stories of the tragic and haunting past. Trek to the Davis family cemetery by lantern light and sit around the fire to roast marshmallows.
OLD SCREAM ROAD: MURFREESBORO'S SCARIEST HAYRIDE EVER
Barfield Crescent Park
697 Veterans Pkwy., Murfreesboro
Oct. 27 | 7:30 – 9 p.m. 
$5
Enjoy the scariest hayride into the depths of the woods at Barfield Crescent Park. Who or what is lurking in the woods? Do you dare find out? Recommended for ages 10 and up.
BELL WITCH CAVE
430 Keysburg Road, Adams
615-696-3055
Hours: Vary daily
$19 Wed – Thurs, $23 Fri – Sun for adults, $12 Wed – Thurs, $15 Fri – Sun for kids (ages 4 – 12)
Tour the cave allegedly inhabited by Middle Tennessee's most notorious spook, and tour the cabin to hear even more frightful tale of how the witch haunted John Bell and his family.
BELL WITCH FALL FESTIVAL
Adams Bell School Grounds
7617 Hwy 41N, Adams
Sept 29 – Oct. 22, Thurs – Sat | 7 p.m.
$30
Come out to for free music and folklore. First, experience Smoke: A Ballad of the Night Riders, an original musical drama depicting the emotional ride of the Hartley Family during the Tobacco Wars, Sept 28 – Oct. 7.  Then, the festival culminates with Spirit: The Authentic History of the Bell Witch of Tennessee, produced on the grounds of the Bell School (the very land settled by John Bell and where the hauntings took place), Oct. 19 – 28.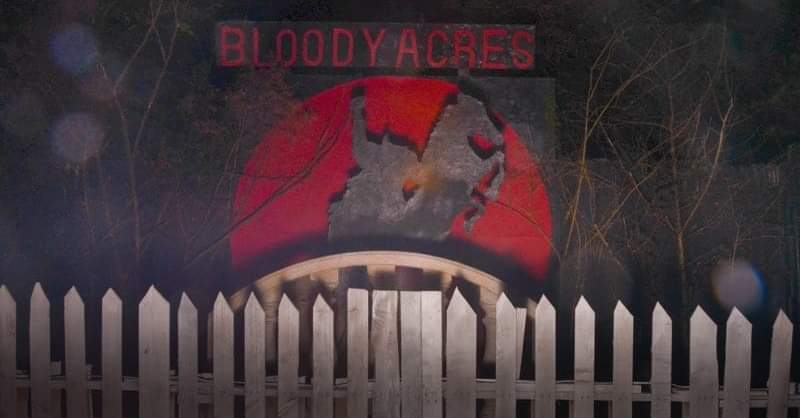 BLOODY ACRES HAUNTED WOODS
318 Big Station Camp Blvd., Gallatin
615-974-8589
Hours: Fri – Sat 7 p.m. – 12 a.m., Sun 7 – 10 p.m. thru Oct. 22; daily from Oct. 23 – 31 (weeknights 7 – 10 p.m.)
$20 (regular admission) $25 (Fast pass, CASH ONLY)
Real woods and real terror! Get spooked in the woods by the new killer clowns before exploring the old mine shaft.
CREEPY HOLLOW HAUNTED WOODS
2133 Joe Brown Road, Spring Hill
931-486-3063 
Open Sept. 29 – Oct. 31: Fri – Sat 7 – 11 p.m. (plus Oct. 30 – 31)
$30
Three attractions in one designed to "scare the yell out of you" include Trail of Terror Haunted Woods, Halls of Horror Haunted House and the Zombie Maze. Embark on a hayride and storytelling for an extra $5.
DEVIL'S DUNGEON
510 Davidson St., Nashville
615-256-0053
Open Fri – Sat, Sept. 16 – Oct. 31: 7 p.m. – 12 a.m.
$18 through Oct. 16 ($20 Oct. 20 – 28)
Nashville's most controversial haunted house features 20,000 square feet of fright with two floors of shocking, bloody gore.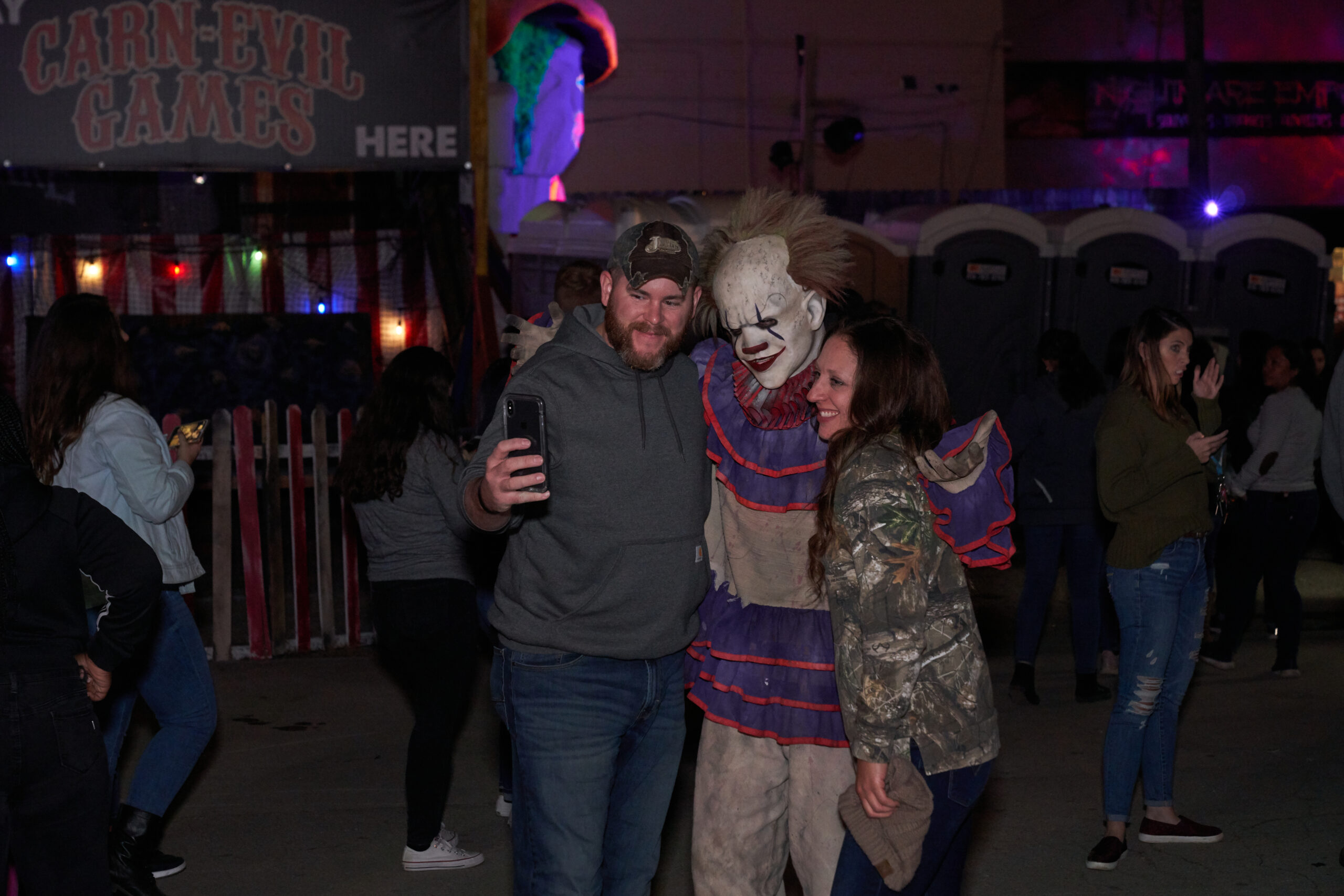 NASHVILLE NIGHTMARE
1016 Madison Square, Madison
615-752-5663
Select nights through Nov. 4 | 7:30 – 10 p.m.
$29.99 – $34.99 for all attractions; $40 includes the Slash Pass
Now in its ninth season, Nashville Nightmare has expanded to include five distinct haunted attractions within its 50,000 square feet of space: Outcast Carnival, Vector Research, Cursed Legends of the Deep, Horror High: All Hallow's Eve and Midnight Mortuary.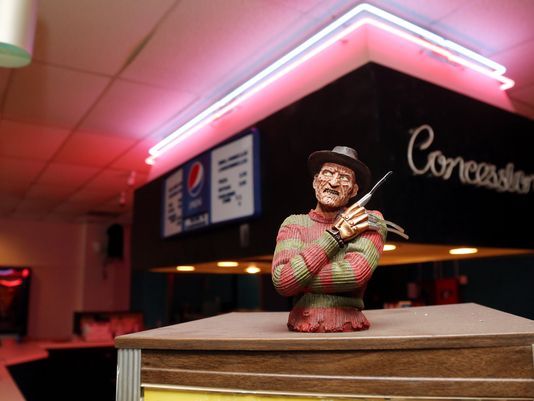 SLAUGHTER HOUSE
3445 Lebanon Pike, Hermitage
615-840-5069
Select nights through Oct. 31 | 8 p.m. – 12 a.m.
Prices vary | Starts at $30
Nashville's longest-running haunted attraction celebrates 30 years of intense slaughter, blood-and-guts haunted horror, now located at the Full Moon Cineplex.
READ MORE!