Every so often, a touch-a-truck event pops up around town that allows kids to crawl through, climb on and explore all the bells and whistles on big construction trucks, emergency vehicles and more. There are several that are annual and most of them are free, too. And, if you can't make it to one of these events, just visit your local fire department. Most don't require an appointment and they all LOVE visitors!
Upcoming Touch-A-Truck Events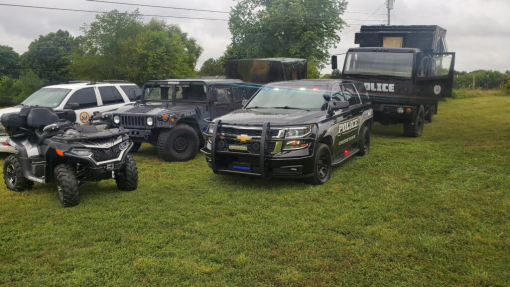 Law enforcement, Fire, EMS, and other first responder & rescue vehicles will be on display at Coopertown Police Department's 3rd Annual Touch-A-Truck event. The event features emergency vehicles, kids activities, water slide, face-painting, cornhole, dunk-a-cop, music, and food available from Coopertown Men's Club, Golly G's, and Jet's Pizza.
8th Annual Touch-A-Truck Event
RiverGate Mall | 1000 Rivergate Pkwy., Goodlettsville
Tuesday, Sept. 26 | 4 – 7 p.m.
Madison Police Precinct and Goodlettsville Police and Fire bring out the big cars for kids o honk the horns and explore. Fun activities include bounce house, face painting, balloon artist and more. Vehicles include Mobile Booking Unit, SWAT Vehicle, Police Cars, Fire Truck, Mounted Police, Ambulance, Office Emergency Management Vehicles, Rolling Video Games of Nashville and more.
Firefighter Story Time & Touch A Fire Truck
Franklin Library | 1314 Columbia Ave, Franklin
Tuesday, Oct. 10| 10 – 11:15 a.m.
Thursday, Oct. 12 | 10 – 11:15 a.m.
For families with children of all ages. Meet Franklin Firefighters, who will be special guest readers, and demonstrate their firefighting gear.  Then head out to the parking lot for the opportunity to touch a fire truck immediately following story time!  There will be two separate, 30-minute presentations, with the first beginning at 10 a.m. and the second at 10:45 a.m.
Look What's Coming Next Year!
While there is some time before these events happen, it's nice to know when to make plans for them. Be sure to visit their websites and Facebook pages as the month gets closer to get date and time for the event. Events may cancel, too, so be on the lookout.
Touch a Truck
Jim Warren Park | 705 Boyd Mille Ave., Franklin
May 2024 (date/time TBD) | Free
All ages, with parent supervision, are welcome to touch, climb-on and explore several trucks, tractors, machines, police cars and more! Enjoy entertainment, music and bounce houses along with food trucks. There will be a "No Horn Hour" from 5 – 6 p.m. for the little ones, too.
Fun Friday: Touch A Truck
Moss-Wright Park | 745 Caldwell Drive, Goodlettsville
June 2024 (date/time TBD)
Kids can sit in the seat, honk the horn and turn the wheels of their favorite trucks or vehicles, including fire trucks, dump trucks, police cruisers, cranes and more.
Kid's Construction Festival
Lucky Ladd Farms | 4374 Rocky Glade Road, Eagleville
June 2024 (date/time TBD)
Put on your play clothes for a day of getting down and dirty at Lucky Ladd Farms during its annual Kid's Construction Festival. Kids of all ages learn how to operate heavy equipment and more. Kids actually get to help Digger Dan operate a real excavator, move sand, climb on a bulldozer and explore other farm and construction equipment. In addition to big trucks, enjoy hands-on activities including skill practice such as how to hammer a nail and drive a screw. You can also build with giant Lincoln logs. Required hard hats and safety goggles provided on-site and closed-toe shoes are required.
READ MORE!