Blue Raider Athletics will be participating in United Way's Hometown Huddle with this year's theme centered around tackling hunger.
One in six children live in a food-insecure household so school breaks should not mean hungry children in our community. Become a real MVP by participating in the Hometown Huddle food drive for children in our community.
Middle Tennessee Athletics is making it easy for you to donate by becoming an official collection site, collecting items for United Way until Tuesday, September 19th.
Bring your donated food items to the list below:
Murphy Center Athletics Lobby (2650 Middle Tennessee Blvd) | Monday – Friday 8:30am-5pm
Rutherford County Chamber of Commerce Business Before Hours | 8/24 7:30am-9am
MTSU Athletics Fan Day | 8/20 3pm-5pm
MTSU Women's Soccer Matches | 8/20, 8/31, 9/3, 9/7
MTSU Football vs Murray State | September 16th | Gates Open at 4:30pm
Purchase food items on United Way's Amazon Wishlist. The items will be shipped directly to United Way's office. Click here to view the Amazon Wishlist.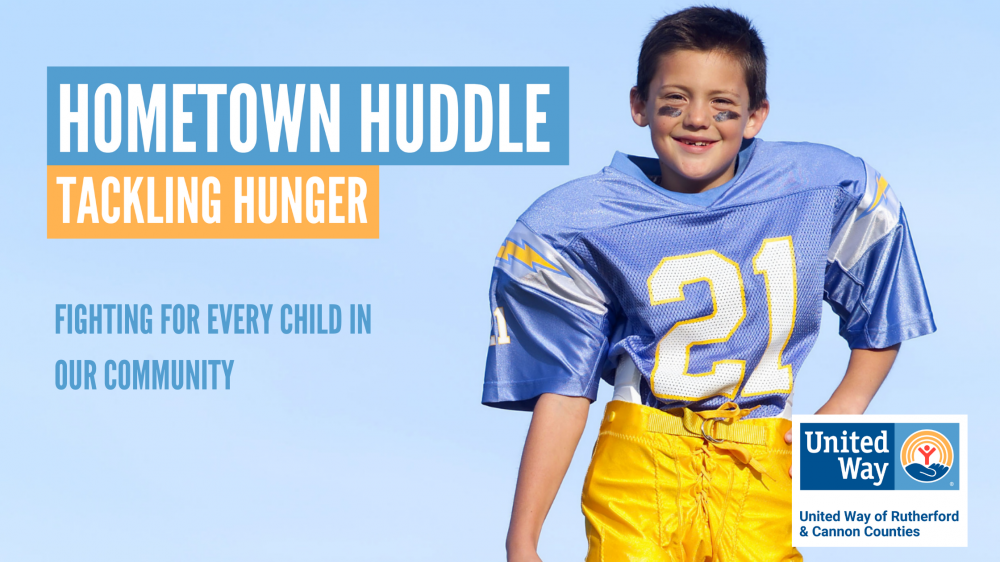 Hometown Huddle List of Acceptable Foods:
Cereal
Fruit cups
Fruit snacks
Granola bars
Juice boxes
Microwavable macaroni and cheese
Peanut butter and crackers
Peanuts
Pop top, microwavable containers of beef and macaroni, beef stew, beans and franks, spaghetti and meatballs, etc.
Reusable water bottles
Rice Krispy treats
Shelf stable milk
Snack cracker packages
Trail mix packages
*All items must be single servings and should not require refrigeration.
For more information on United Way's Hometown Huddle, visit yourlocaluw.org/hometownhuddle.