Linebaugh Public Library will host New York Times bestselling author and illustrator Jan Brett for a book signing on Sunday, December 10 from 5 – 7 p.m.
The stop in Murfreesboro is part of her "Winter Wonderland Bus Tour," which kicks off on November 24 as her first bus tour since fall 2019. Traveling to 23 cities in just 17 days, the tour will highlight her beloved wintry backlist books just in time for the holiday season.
Author of over 40 picture books with over 44 million in print, Jan Brett is renowned for her exquisite art which is universally recognized as being among the finest in children's books today. Her detailed illustrations are often inspired by her many globe-trotting adventures, whether it be to Norway, Botswana, Japan or India. Jan Brett's work has been chosen as "Best Children's Books of the Year" by The New Yorker, Parents, Redbook and others, and she has been featured in publications like Romper, The Boston Globe, Travel + Leisure, The Los Angeles Times and more.
For this year's tour, Jan Brett will do a drawing demonstration related to her bestselling picture book Cozy and talk about her research trip to Alaska to see the musk oxen.
Barnes & Noble will be on-site at Linebaugh for the sale of Jan Brett's Winter Collection Box Set, which includes four bestselling titles: The Snowy Nap, The Hat, Cozy and The Three Snow Bears.
From Hedgie's adventures trying to stay awake to see the wonders of winter and entertaining all of his animal friends with a stocking on his head, to Cozy the musk ox keeping a boisterous group of animal's warm  during the Alaskan winter, and three of the furriest bears with the coziest house you've ever seen, Jan Brett's favorite characters are sure to entertain during any weather.
More about Jan Brett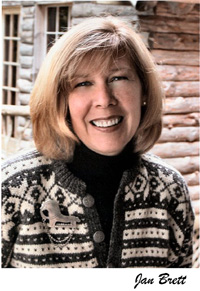 Jan Brett lives in a seacoast town in Massachusetts, close to where she grew up. During the summer, her family moves to a home in the Berkshire Hills. She is a New York Times #1 bestselling author/illustrator, one of America's most popular, with over 44 million books in print, and has brought to life lovable characters and imaginary backdrops for children for more than 40 years. Her illustrations are adored for their classic beauty and vibrant, life-like images of animals, landscapes, and flourishes from cultures around the world.
While Jan is most known for her children's books, she is also an award-winning breeder of ornamental fowl (fancy chickens!). Some of her best book ideas come from favorite activities including extensive travel and exploration of the natural world, marathon training, and while listening to the Boston Symphony Orchestra, where her husband is a musician.
In 2021 she received the prestigious Regina Medal for her continued distinguished contribution to children's literature from the Catholic Library Association (CLA).
For more about Jan Brett and all of her books, visit janbrett.com.